Close
Shopping Basket
Your Basket is Empty
Welcome to In The Potting Shed
SPECIAL OFFER - ON ALL OUR 2 LITRE COMPOSTS JUST ORDER 1 AND WE WILL SEND YOU 2
But after being active for 12 months this offer will change in January so act now to avoid diappointment
POSTAGE DISCOUNT FOR MULTIPLE ITEMS PAIDBACK TO YOUR PAY PAL ACCOUNT
ASAP AFTER RECEIPT OF ORDER
Payment through Paypal or by cheque with note of order to 74 Moss Lane, Hesketh Bank, PR4 6AB
You do not need a pay pal account, you can pay via a card in the normal way on the pay pal siteThank you for visiting our website,
please browse and any questions will be answered asap through our 'contact us' button
Hand blended composts to ensure uniformity at all times, we care about your plants
LIKE EVERYONE ELSE AT THIS TIME WE ARE HAVING TROUBLE GETTING SUPPLIES, WE ARE TRYING
EVRYWHERE AT THE MOMENT AND WILL KEEP UPDATING THIS SITE AS SOON AS WE MANAGE TO GET STOCKS IN
We can only ship to the UK at the moment
NEW COMPOSTS NOW IN STOCK - ERICACEOUS - LITHOPS - ​STRELITZIA - VENUS FLY TRAP

DAFFODIL BULBS - FIR CONES
| | |
| --- | --- |
| Posted on 5 October, 2018 at 2:45 | |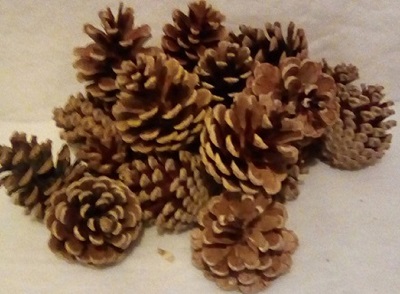 Well Autumn seems to be well and truly upon us and what a busy time we are having here at In the Potting Shed, we are getting ready for Christmas, sorting out new products like Fir/Pine cones (which are now available at www.inthepottingshed.co.uk 
and wreath bases, ribbons etrc. We have even taken some order for the Holly Pots which will be ready early December for those who have to travel a distance, in an assortment of coloured ribbons which proved very popular last year. We are also looking to put together some kits for children this year to make up themselves so they can add their own stamp on the the run up to the festivities as well as those special touches you can make yourselves, so keep watching for those, they will be available mid to end October.
In all the hustle and bustle leading up to Christmas do not forget your house plants, even though you can reduce the amount of water you give them now, some will need to be potted into larger pots or new shoots will need to be planted, we have a great range of our Specialist Composts, all mixed by hand with great care so your plants can have the very best growing medium to enable them to thrive. Whether it be Orchids, Cactus, Citrus, Bromeliad or the more unusual, we have them covered, we understand that some varieties need a bit extra something to make their compost complete, so if you are in doubt or cannot find what you are looking for, just send us an email to:  [email protected] or call 07443916733 and it will be our pleasure to help you, we can produce just about anything your plants need at no extra cost to you.
We have a great range of plant gift ideas Large Orchid Repotting Kit, Small Orchid Repotting Kits, a Complete Care Orchid Kit and a Cactus Repotting Kit, along with a Bromeliad care and a Cactus care, not to mention the Flower Press which is on special offer and an assortment of tins which are so very useful for anything.  Any of which would  make an excellent Christmas Gift or just to say Thank You to someone important in your life.
October Jobs for the Garden
Finish planting those Spring Flowering bulbs so you can see if you need any more before they run out.
Dig up the remainder of your potatoes and store for the winter in hessian or paper sacks
Gather the last of the raspberries before the birds get them and cut down the canes making room for next years growth.
Dead head perennials and hardy annuals and dry the seeds in paper bags, carefully labelled ready for sowing in the early Spring.
Divide herbaceous plants, these will need planting in their new spot straight away, if the new plot is not ready then wrap the root ball in damp sacking or old towels to keep the rootball from drying out but plant again asap.
New plants that will be ready to plant out in a few weeks need to be kept watered.
Greenhouse need to be cleared out, pots and tray need to be washed in Jeyes Fluid and stored away when dry until needed again, wash down all surfaces as well as the glass, the more you clean the less chance of carrying over any diseases fromm year to year.
Place bird proof netting over your leafy vegetables.
All that done, then the catalogues need to be poured over for seeds and ideas before the January sowing begins, all the plannins is exciting before the really hard work starts again .
More information
For more information, or to find out about our specialist horticultural products, call In The Potting Shed on 07443916733 or email us on [email protected], not forgetting our website www.inthepottingshed.co.uk. We will be delighted to hear from you.
Categories: None
/